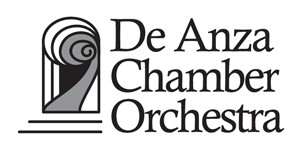 Welcome to the home page of the De Anza Chamber Orchestra at De Anza College in Cupertino, CA.
Check out a preview of our new home page.
Join Us!
If you enjoying playing an orchestral instrument, we probably have a place for you in our orchestra. Feel free to contact the director, Loren Tayerle (dacoperforms@yahoo.com) with any questions. Prior orchestral experience is helpful but not required.
Schedule & Registration
Class/rehearsal is every Thursday night from 7:30 until 10:00 in De Anza's Room A-31. The first rehearsal of Spring Quarter 2015 will be April 9th. If at all possible, please register for the class before showing up. If you've taken Music 31 too many times, you may be able to take Loren Tayerle's section of MUSI 41 which meets concurrenly.
Current members and alumni, If you have "used to play an orchestral instrument" friends who would enjoy our friendly group, get them to dig out their instrument, play a scale, and show up. You can also put up a recruiting poster wherever you work or play.
---
We practice from 7:30pm-10pm on Thursday nights in De Anza College's room A-31 (the main room in building "A3" on this campus map).
De Anza is at Stevens Creek and Highway 85.
The Arts Quad borders Stevens Creek on the north side of campus.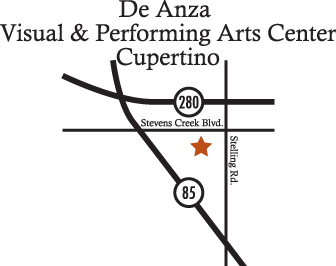 Car ($3) and bike (free) parking are available. Additionally, the VTA #23 stops right between our practice space and our usual performance spot: De Anza College's Visual and Performing Arts Center.
---
Online Groups
You and your friends are welcome to join us online. Orchestra members need to be on our e-mail list to receive important announcements. Facebook is a great way to connect with each other and to promote our events.
---
Related Sites
Music Stores
Member Resources
Archives
Past quarters