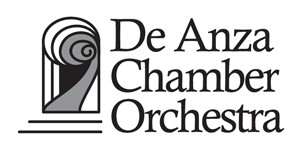 Welcome to the home page of the De Anza College Chamber Orchestra.
---
December 4th, 2010
7:30 PM @ Visual and Performing Arts Center, De Anza College
$10 general; $5 students & seniors
Directions, poster (grayscale), facebook
Mozart, The Marriage of Figaro: Overture
Mozart, Sinfonia Concertante

Eric Leong, violin
Mark Fish, viola

Mozart, Horn Concerto No. 3 (E flat major, K. 447)
Puccini, La Boheme: Musetta's Waltz
Puccini, Madama Butterfly: Un Bel Di
---
Sing-along Messiah
December 11th, 2010
5:00 pm (4:00 warmup) at
Advent Lutheran Church, Morgan Hill
Map to 16870 Murphy Avenue, Morgan Hill, CA

Join us for Handel's Messiah this December. Bring your singing voice!
---
We perform in De Anza College's Visual and Performing Arts Center which is near Stelling and Stevens Creek in Cupertino (map / directions).
Car and bike parking are available. Additionally, the VTA #23 stops right between our practice and performance spaces.
---
Online Groups
You and your friends are welcome to join us online. Orchestra members need to be on our e-mail list to receive important announcements. facebook is a great way to connect with each other and to promote our events.
dacoperforms is the Yahoo group used to post announcements to orchestra members.
It also contains member-specific files like our roster, parts with bowings, and other class documents.
---
Joining in the fun
Our fall concert is nearing and we'd love to have you in the audience. If you have some experience and wish to "play along" at our Messiah concert on December 11th, let us know. You're also welcome to stop by our rehearsals. Winter quarter registration opens in December. You support the orchestra in its recruiting efforts by putting up one of these recruiting posters wherever you work or play.
Feel free to contact the communications manager, Soren Spies, (sspies+daco@bigw.org) or the director, Loren Tayerle (dacoperforms@yahoo.com) with any questions. Prior orchestral experience is helpful but not required.
We practice in De Anza College's A-31 (campus) which is near Stelling and Stevens Creek in Cupertino (map).

---
Related Sites
Music Stores
Member Resources
Archives
Older versions of this site: