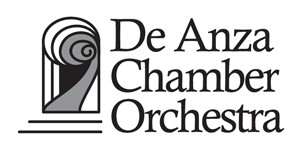 Welcome to the home page of the De Anza Chamber Orchestra at De Anza College in Cupertino, CA.
---
December 9th, 2011
7:30 p.m. at De Anza's Visual and Performing Arts Center (VPAC)
Directions, iCal
(poster, facebook, De Anza calendar)
$10 general admission, $7 students & seniors

Mendelssohn, Violin Concerto in E minor, Opus 64
Mendelssohn, Symphony No.4 ("Italian"), Opus 90
J.S. Bach, Orchestral Suite No. 3 (BWV 1068), Air and Gavottes I & II
Michael Senturia, Andante Cantabile

Michael Senturia is a local composer, UC Berkeley Professor Emeritus, and inspirer of many conductors (including our own).
---
We perform in De Anza College's Visual and Performing Arts Center which is near Stelling and Stevens Creek in Cupertino (De Anza map & directions).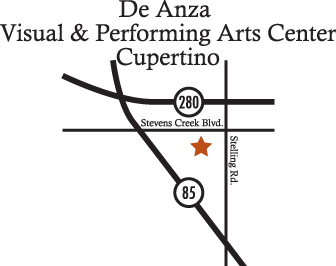 Car and bike parking are available. Additionally, the VTA #23 stops right between our practice and performance spaces.
---
Joining in the fun
If you'd like to play with us next (winter) quarter, the best thing to do is to register for the orchestra class with De Anza college. The class code is usually MUSI031.
---
Annual Messiah Sing-Along
December 3rd, 2011
Hosted by Advent Lutheran Church, the sing-along was on Saturday, December 3rd at 5:00 pm. The public is invited.
Advent Lutheran
16870 Murphy Ave (map)
Morgan Hill, CA 95037
(408) 779-3551
(Orchestra members are reminded to show up by 3pm for a pre-concert rehearsal.)
---
Online Groups
You and your friends are welcome to join us online. Orchestra members need to be on our e-mail list to receive important announcements. Facebook is a great way to connect with each other and to promote our events.
dacoperforms is the Yahoo group used to post announcements to orchestra members.
It also contains member-specific files like our roster, parts with bowings, and other class documents.
Our Facebook group is a great way to connect with other members and to include our friends/fans in our activities.
---
Related Sites
Music Stores
Member Resources
Archives
Older versions of this site: