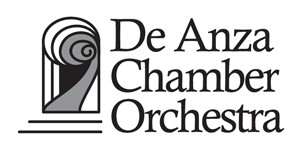 Welcome to the home page of the De Anza Chamber Orchestra at De Anza College in Cupertino, CA.
---
Spring Concert
The Music of Dance
Teleman, Bach, and Nirvana
Featuring Telemann's Concerto for Three Violins
Directed by Loren Tayerle
Saturday, June 14th, 7:30 PM
De Anza Visual and Performing Arts Center
(facebook, poster)
$10 general admission, $5 students & seniors
Tickets available at the door.


---
We perform in De Anza College's Visual and Performing Arts Center (tour), near Stelling and Stevens Creek in Cupertino.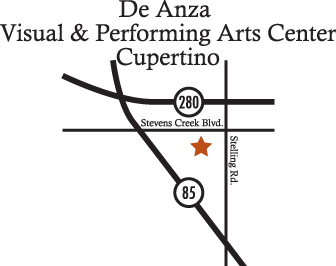 Car ($3) and bike parking are available. Additionally, VTA #23 bus stops nearby our practice and performance spaces.
---
Joining in the fun
If you'd like to play with us next fall, the best thing to do is to register for the orchestra's class with De Anza college. The class code is usually MUSI031 and you don't have to take any academic placement tests.
Director Loren is also organizing a group to make music during summer 2014.
You can support the orchestra in its recruiting efforts by putting up one of these recruiting posters wherever you work or play.
---
Online Groups
You and your friends are welcome to join us online. Orchestra members need to be on our e-mail list to receive important announcements. Facebook is a great way to connect with each other and to promote our events.
---
Related Sites
Music Stores
Member Resources
Archives
Past quarters